We all want more students right? It can be competitive out there so it is important to set yourself apart from the pack. Following are a few tips that will help you do just that.
1.
Don't skimp on your tutor profile.
Upload a photo, fill out your about us, experience, education and available times sections completely. Tutor profiles that have a profile picture are shown above those without a picture in student searches. A profile without a picture will limit your exposure.
2.
Answer math questions.
We have a
math questions & answers
section that registered tutors can participate in for free. Students who are having trouble on a particular homework question post here. When you answer a question, that answer is emailed to the student and your profile link is included to the right of the answer. This allows students to reach out to you if they need further help and is a great way to give your tutor profile more exposure.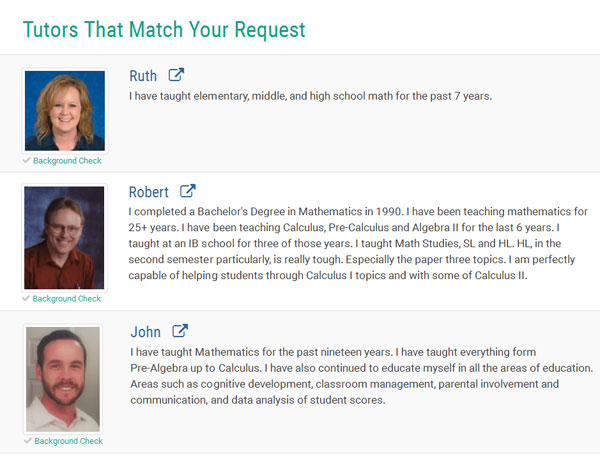 3. Your first email to a student is critical. Some students get contacted by 10+ tutors. Your first email to a student needs to make an impression and encourage the student to click through to your profile and learn more about you. Replying with things such as "I can help" or "contact me" is not going to cut it. Your first email doesn't have to be a novel but it should include a couple of sentences about you and your experience as it relates to the students request.

4. Contact the student quickly! Don't wait a day or even hours if you can help it. Contact students back as quickly as possible after you receive the alert. We allow you to setup email and text alerts so you will get requests right away. Tutors that respond quickly have the highest success rate. Waiting a day to respond decreases your chances of connecting with a student. The probability of the student choosing a tutor at that point is very high.

5. Don't be afraid to include your contact info in your reply. Don't worry, we do not block your emails if you include your phone number or email address in the message reply. Other tutoring services block this information because they take a cut of what you make. They want to make sure all communications flow through their system so they do not lose out on that cut. We do not take a cut of what you make so we don't have to worry about that. Please feel free to leave your contact information. It helps!